The Social Center, which started hosting its first 120 children in September 2018, begins to fill up even more. Since then, during 2019, the Center hosted more and more beneficiaries, as the months passes. Most of them are unfortunate people who come from the province itself. Among these new beneficiaries, there are 31 people with mental or physical disabilities that we are pleased to welcome.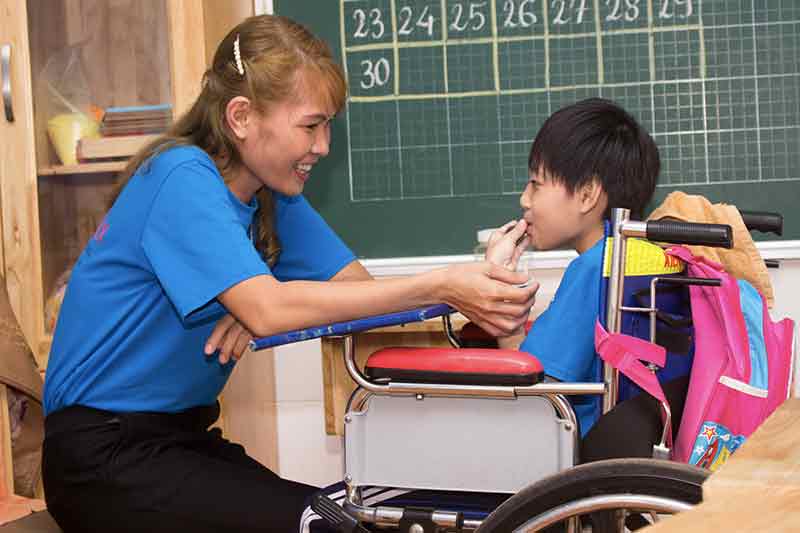 Aged from 7 to 41, these people are found in the Maison Chance Social Center in Dak Nong a peaceful place to live and adapt to their daily commuting. Some of them are kids from poor families of the province, whose houses were not adapted to their physical condition. Others are tetraplegic adults who are already beneficiaries of Maison Chance. In the long run, they are not able to be independent. Therefore, Maison Chance wishes to take care of them during their lifetime and proposes them to install once and for all in the new Social Center.
Just like the Take Wing Center, the Social Center will open vocational trainings for our beneficiaries. These workshops are the same as in Ho Chi Minh City. We have also set up adapted gardens for people in wheelchair, which allow them to do gardening according to their wishes. This is an innovative therapy whose efficiency has already been proven by stimulating all the senses. We also propose hippotherapy (therapy by horses) and hydrotherapy at the facility.
Of course, the youngest children go to school in one of our 3 specialized class. These classes welcome disabled beneficiaries with intellectual disability, hemiplegia, trisomy, cerebral palsy, etc. Three specialized teachers take care of them and follow their development very closely. They support these kids with, and help them in their daily tasks, regardless of their disabilities. The goals for the children is to develop autonomy, work on socialization, knowledge and familiarization with their environment. Before their arrival in the Center, some of these handicapped kids never walked. Today, thanks to the medical care provided by Maison Chance, they can move independently using crutches or armchairs.
| | |
| --- | --- |
| | |
Regardless of the disability, the kids of the center have the chance to go to school and to live in ideal conditions, which was not the case before. Most of them come from ethnical minorities and have a poor background. They lived in extremely precarious conditions without running water and electricity. They could not speak Vietnamese, as they were talking in their own dialect.
Disabled people living in this Center have been able to find a pleasant and peaceful place is designed to adapt to their daily activities; a living place very peaceful and pleasant. This Center is a place of fulfillment where the intergenerational links between the youngest and the oldest are created over time, just like in Maison Chance's centers in HCMC. In the future, we will also host elderly people with disabilities. The Center has a capacity of 250 people.
Post: Eléonore