When Lady Luck smiles on you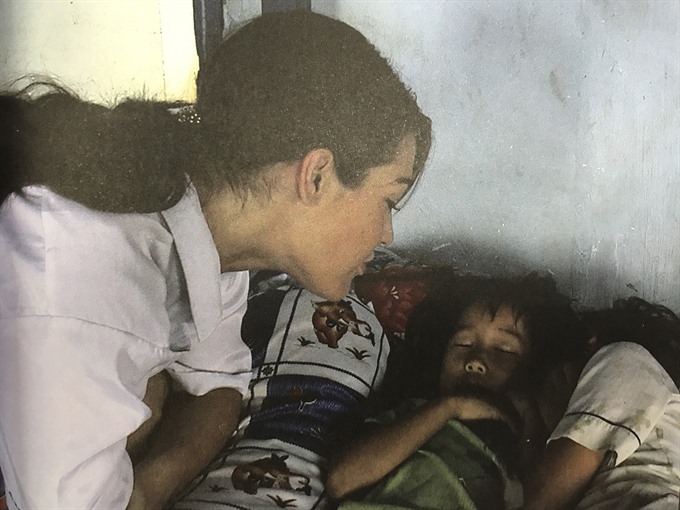 Sleep tight: Tim with some of the poor children at the "Lucky House" she built to take care of them. Courtesy Photo of Maison Chance
Viet Nam News By Lê Hương
It was a roundabout route that took Aline Rebeaud to Việt Nam 25 years ago.
After selling some paintings by a Mongolian artist in Switzerland, she went to the country to pay him, but was unable to find him. Then she went on to China and entered Việt Nam by the northern border.
A Vietnamese musician who'd lived in Switzerland for a long time had told her many stories about his country and invited her to taste Vietnamese food. She was curious and wanted to see the country for herself.
Moved by the plight of poor people here, she decided to stay on for sometime. To do this she wanted to learn the language, but her first attempt in a college in Huế City did not work out well, with the local accent proving very difficult to master. She moved to HCM City then and enrolled in Vietnamese Language Faculty at the HCM City Social Sciences and Humanities.
Two chance encounters with poor orphans in the city changed her plans and her life very definitively.
"One night, I came across a poor child by a rubbish pile. He was crying and I felt very sorry for him. I took him to my hotel but the receptionists refused to let me take him to my room," she recalled.
The next morning, she took the boy to the city's Labour, War Invalids and Social Affairs Department, then to some open houses, seeking help. No one was willing to take him in. At that time, her visa expired and she had to go to Cambodia to get it extended.
She placed the boy, who was from Cambodia but begging in Việt Nam, in an orphanage in Gò Vấp District, but when she returned, he had fled.
She never saw him again. Her search for Dũng led her to the Thủ Đức Mental Care Centre, where she found another boy, Trần Văn Thành, in a critical condition.
There were ulcers everywhere on his body, and his heart, lungs and liver were seriously damaged. Right in front of the boy, a staff at the centre told her: "He is dying, we cannot cure him."
"That very sentence kept me with him," Rebeaud said.
She completed all procedures to take Thành to a heart hospital and took care of him like a mother. At first, doctors at the hospital also said they couldn't save him, but under her care, Thành recovered.
"His recovery did not just make me very happy, it surprised the medical staff and other patients at the hospital. They took the name of the hospital, Tim [Heart], to name me," she said. Her full Vietnamese name is Hoàng Nữ Ngọc Tim.
Thành was the first child that Tim nurtured in HCM City, and one that decided her calling, leading to hundreds of children calling her mother.
Soon after helping Thành, she gathered some more wandering poor children at her rented home in Tân Bình District. Then there was no looking back. Her mission just kept expanding, because there were any number of people who needed help.
By the end of 1994, she arranged to buy a piece of land in Bình Hưng Hòa Commune to build the Maison Chance (Nhà may mắn or Lucky House).
Here, besides needy children, Tim also began to help people with disabilities. In the early days, she herself did almost everything, including shopping, cooking and taking care of sick people.
"Visiting the House, I was really moved, seeing Tim cleaning smelly ulcers with blood and other fluids from the bodies of seriously sick people," said Trịnh Hội, one of Tim's friends.
Soon, healthy and less sick inmates began to take care of seriously sick people.
In 2006, Tim established the Chắp Cánh, or Take Wings Centre, to reduce the burden on Lucky House. Among other things, the centre specialises in vocational training.
In 2011, Tim completed Làng may mắn, or the Lucky Village project, with 40 apartments designed especially for people with disabilities, the first of its kind in the country.
Every year, the "Lucky" institutions help 500 disadvantaged, under-privileged people.
Now, Tim is setting up another Lucky House in the central province of Đăk Nông, and expects work on it to be completed by 2018.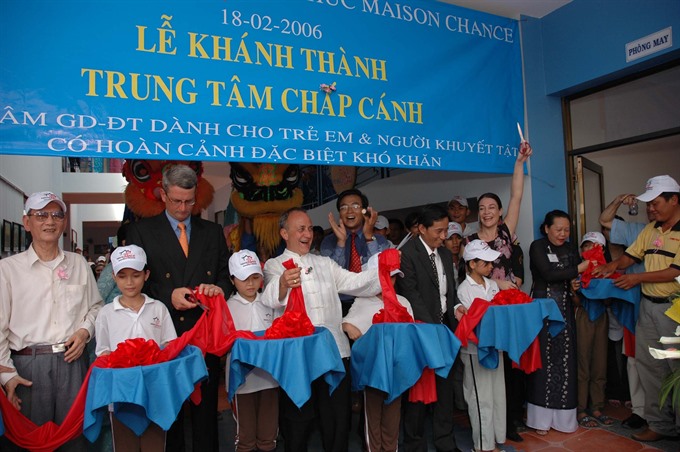 New start: The opening ceremony for the Taking Wings Centre, which provides vocational training for needy people. Courtesy Photo of Maison Chance
Time consuming
Tim's typical day often ends at 2am. She receives around 100 emails per day and often answers them late at night. Most of them are from representative branches of the organisation in Belgium, Canada, the US, Fracne and Switzerland that generate funding and ensure stability for the work done in Việt Nam.
"I'm now 45, and I feel I am getting old," she said, "I have shared a lot of the duties with my 'children,' several of whom been overseas to study and have returned to work here."
Asked about her love life, Tim only said that she was a normal woman, not a nun.
"I have been extremely busy with the work," she said.
"Many of my children who have grown up in the centres found someone there and got married. Sometimes, I am both the maternal and paternal grandmother. It's good if I find someone who sympathises with me and what I'm doing."
She has no regrets about what she is doing, though.
"I think what I'm doing is right and I'm happy to do that," she said with a big smile.
That smile belies the troubles she's been through. Apart from the straightforward difficulties of her chosen work, she has been hurt and saddened by people close to her who have tried to cheat her. One tried to claim a property and another, a teenager who she'd helped, tried to take over the charities to make profit.
"They are some greedy people, but there are more good people who've supported me. So I have never wanted to give up."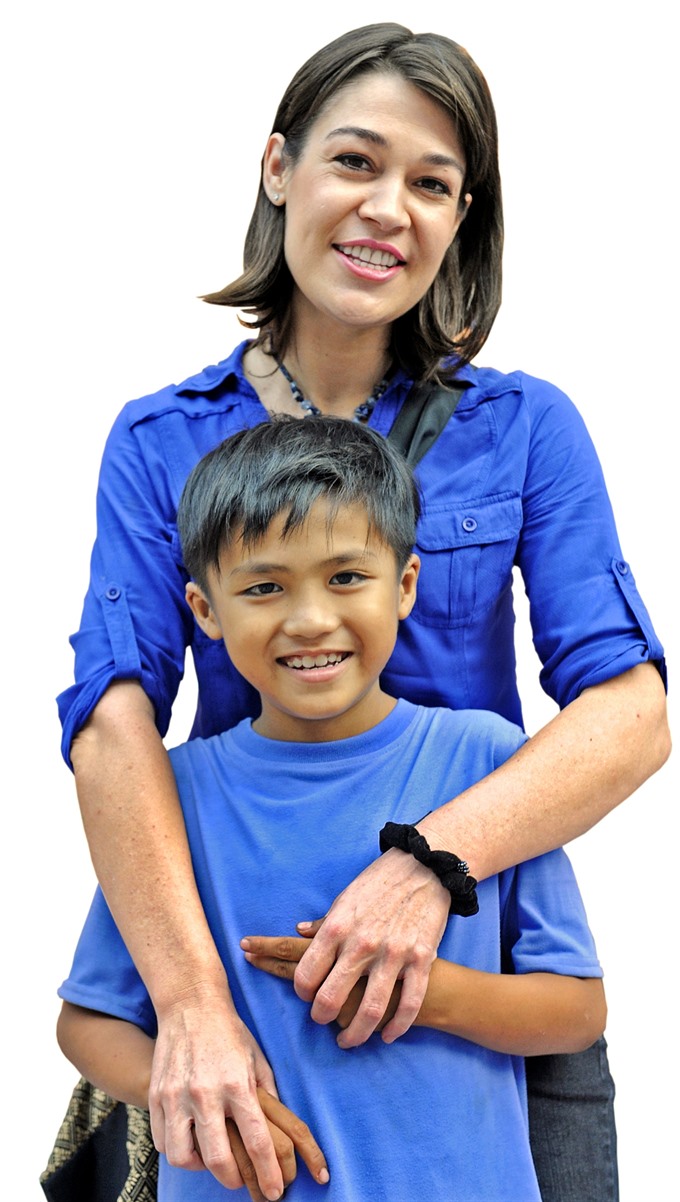 Hand in hand: Tim with one of her "children." Courtesy Photo of Maison Chance
Paying back
Lý Thị Bích Trâm is among Tim's close followers.
Coming to the Lucky House when she was just four, Trâm ended up getting a scholarship to study English at the Houston Community College in Texas for two years before entering the Lehigh Community College in Pennsylvania for a business administration course.
"Returning from the US, I found lots of changes at the centres," Trâm said, "There were many more new people being taken care of while many old residents had moved out to find jobs to live on their own labour.
"I want to help mother deal with managing tasks to repay what I have received from her, my older sisters and brothers in Việt Nam as well as in the US.
"I have been very lucky to be educated in the US, and I want to bring luck to other people like me."
Examples to follow
Tim mentions in her recently launched book, Nhà May Mắn (Lucky House), that it is impossible to help everyone, "but we can help many people find a balance in their lives.
"I respect unlucky people who have enough power and energy and the will to go forward. They are examples for me to follow…".
"There are too many people who need my help. I'll stick to these homes till the end of my life."
It is not a difficult choice, she said.
"Affection is a gift from heaven, we give and we receive double the amount of happiness." — VNS
Source: www.vietnamnews.vn