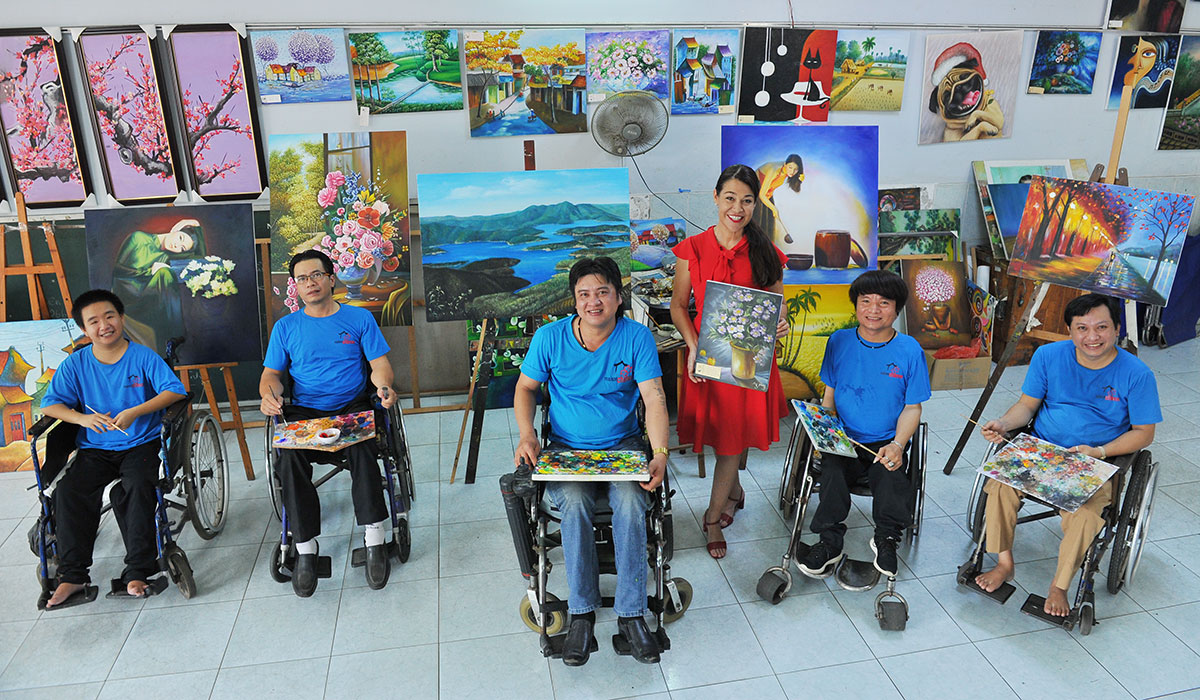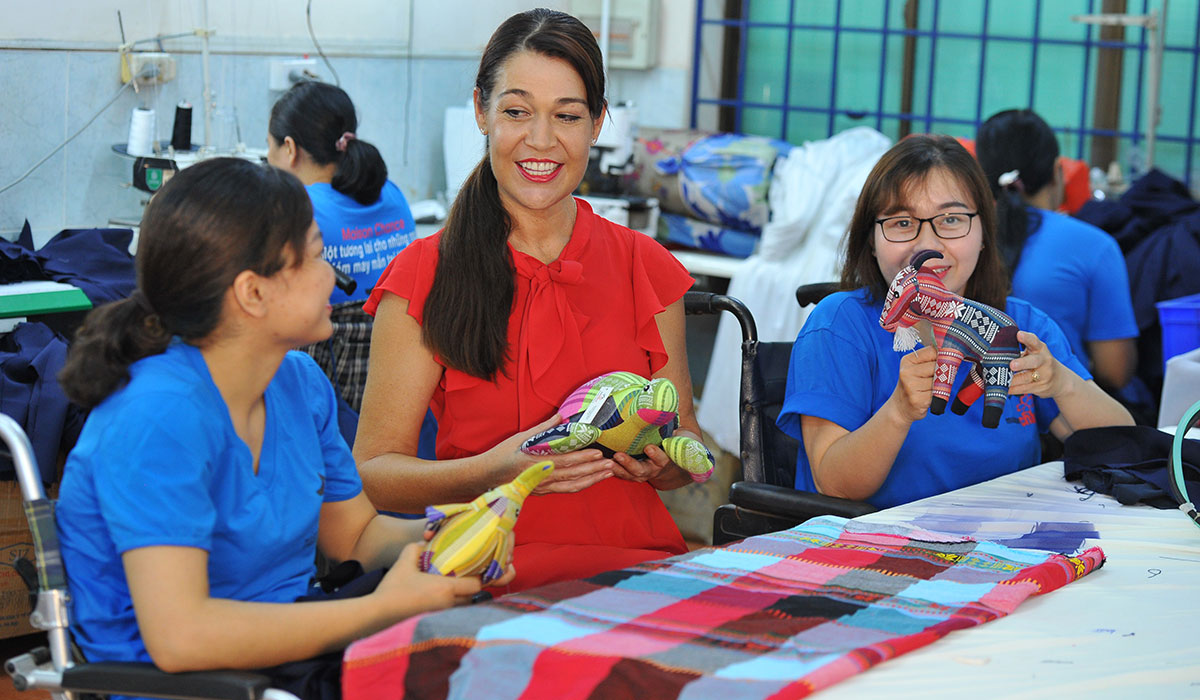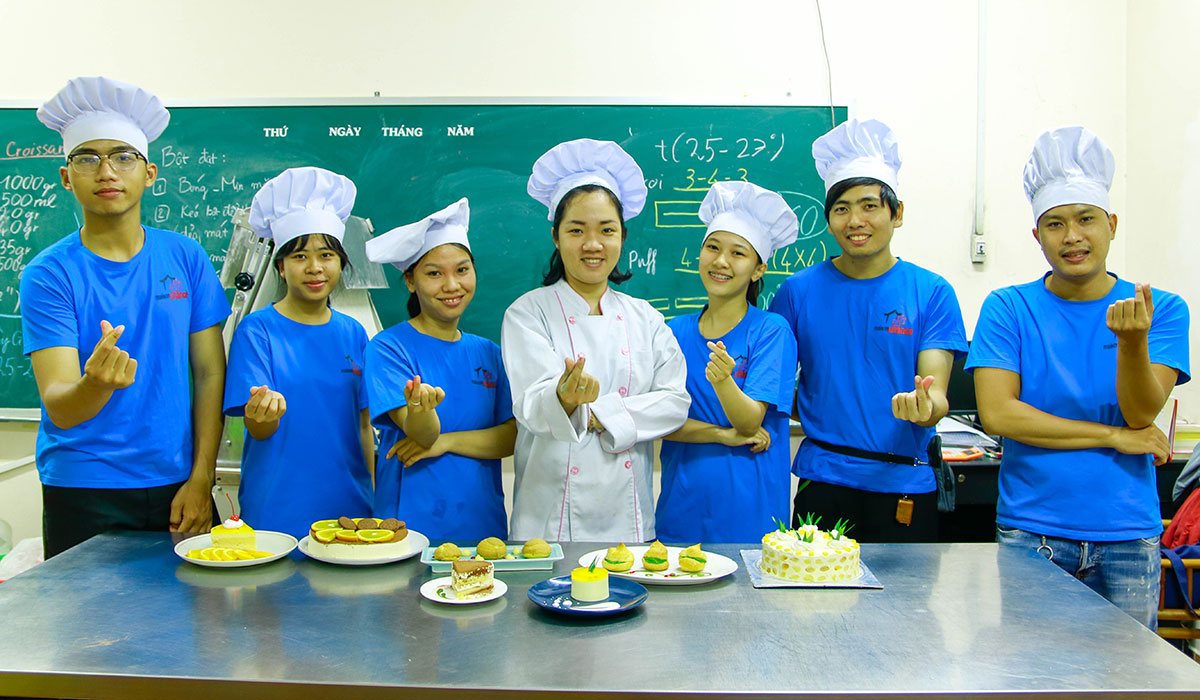 The Take Wing Center, a vocational training facility, officially opened its doors on February 18, 2006. The center features a u-shape and is built around a covered central hall, with a total space of 1200 m2 divided over two stories. More crucially, a ramp connects the top and lower floors, making travel accessible for wheelchair users. Beneficiaries take the Maison Chance's adapted bus or ride their electric vehicles from the shelter to the Take Wing Center.
The center's four vocational training rooms provide painting, sewing, IT, and stone cutting. A manager guiding the trainees is assigned to each room. Aside from vocational training, the main office for administrative work is also located in the center.
The workshop started out as a way for beneficiaries to express themselves through painting, but it has since grown into a genuine profession for the disabled. Basic sketching and painting skills are taught to trainees before they progress to more sophisticated techniques as oil painting. Those of them could now create subject-specific oil paintings, as well as their own artworks and paintings-on-demand, such as portraits or greeting cards, and replicating other works of art.
SEWING
The sewing room's participants have all undergone basic sewing training. As a result, they are able to process each stage of production, ensuring that the customer's expectations are being met.
More interestingly, the sewing machines have been specifically designed for wheelchair users, allowing them to control the machines with their elbows rather than their legs, which they are unable to do.
In order to adapt to customer needs, new sewing techniques are frequently updated to the members.
IT WORKSHOP
No career is better suited to the disabled than information technology jobs, especially those who are wheelchair-bound and unable to use their limbs properly. Thanks to the Internet, computers provide disabled people with a new way to interact with the outer world. The trainees learn IT basics as well as how to handle design applications (Photoshop, Adobe Illustrator), as well as how to build a website using the WordPress platform. Members who complete the training might choose to work as freelancers at the Take Wing Center or move straight to work for the company.
THE BAKERY
Since the Village Chance's establishment in 2011, Maison Chance has built a bakery in the Village Chance's precinct. The program includes teaching underprivileged youths how to make baked goods such as bread, pastry, and so on.
Aside from training, the bakery currently produces a variety of pastries and bread such as croissants, pains au chocolat, brioches, cookies, ice cream, etc.
STONE CARVING WORKSHOP
Stone carving is the process of transforming rough semi-precious gemstones such as quartz into beautiful jewelry and works of art. Moreover, they are instructed how to polish opal stone-based products, among other things. Wheelchair users, particularly those who could use both hands, could work comfortably.