During the past 4 weeks, Maison Chance welcomed 4 Swiss medicine students. Julia, Mylène, Nadège and Nimatullah chose Maison Chance to complete a community immersion internship for finalize their Bachelor at Geneva University. Here is what they told us about their experience…
Why did you choose Maison Chance to complete your internship?
We found out about Maison Chance through its website, the association immediately got our attention. None of us being able to speak Spanish, we preferred an Asian destination rather than going to Latin America. The goal was to discover a new culture thanks to our internship, and Vietnam felt like the best choice.
What were your first impressions about Vietnam, about Maison Chance?
We immediately noted big differences about the local population lifestyle: a lot of traffic, a huge noisy city, life never stops. It is our first time in Asia for 2 of us.
Regarding the volunteering, we feel like the framework is more lenient than in Europe, a greater level of autonomy is requested…
Working as volunteers make us live a totally unique experience, with an immersion in a very "Vietnamese", non-touristic neighborhood. We can now understand the reality of people's life here, this is the opportunity to live an out of the ordinary experience.
What are your daily activities on a typical day at Maison Chance?
It depends on the volunteers' qualifications and their wishes. As far as we are concerned, we work one hour every morning with the special classes children who need a greater attention, and another hour with the kindergarteners to teach them English. In the afternoon we help the physical therapy team and the nurse to provide medical care to the handicapped people.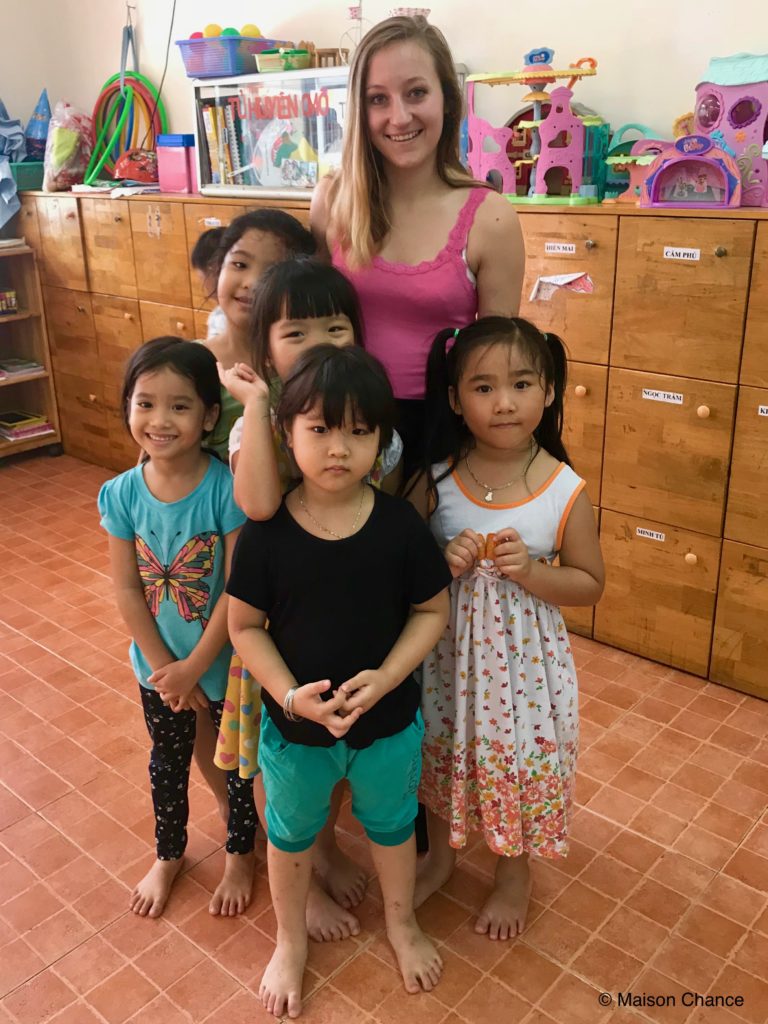 How do you feel about your assignments?
Views are shared concerning the activities with children: a few of us are not used to it, this is a real challenge! The medical activities are very appreciated because we can apply what we learnt at university.
What have you drawn from your experience in Vietnam?
What we will remember is that we have the chance to live in Switzerland, where we can study in a famous, clean hospital with big financial resources. Here, people do what they can with what they have, and the most important is that it works well that way. We are confronted to a totally different world where the financial means are reduced, and resources are saved, which might not be such a bad thing after all.
| | |
| --- | --- |
| | |
What do you think would be important to improve Maison Chance?
We were surprised by the lack of psychological support, especially after traumatic experiences such as living on the street, being abandoned, losing the use of your legs, etc. We feel like Maison Chance beneficiaries don't talk about their feelings outside of their private circle. In the West, psychologists are almost always present in a context like this one. However, we don't know enough about the cultural context to decide if a psychologic support would help.
Moreover, sanitary norms are not the same because the limited means in Vietnam lead to a greater resource management. We wouldn't want to impose our western vision regarding hygiene and sanitary norms, the system here is completely different.
To conclude
We lived a unique experience, both for our medicine studies and from a humanitarian, social and cultural point of view. We learnt a lot on ourselves and on others in just a month. We would highly recommend Maison Chance for future medicine students, so they can also live this adventure!
Post: Philippine